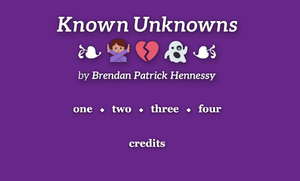 Known Unknowns is an interactive fiction game created by Brendan Patrick Hennessy with art by Izzy Marbella. It is a spiritual successor to Birdland as well as taking place in the same universe. It is a self described "bisexual ghost hunting adventure," where Grade 12 Journalist Nadia Nazari attempts to navigate her senior social life as well as the success of her school newspaper.
Synonpsis
Edit
Nadia and her best friend Kaz are the only two members are of their school newspaper team. The two investigate paranormal activity in the school hoping that their investigation will renew interest in the paper.
Meanwhile, Nadia is also trying to get back on good terms with her former best friend Summer, who has just returned to Nadia's school. However, Summer's friend and Kaz's sister, Anja has a grudge against Nadia, and Nadia's boyfriend Allen is trying to stop her from getting too "obsessed" with the situation.
Known Unknowns is broken into four episodes:
The episode begins with a flashback to an interaction between Nadia Nazari and Summer Okamura. While hanging out, an incident (later revealed to be an attempted kiss initiated by Nadia) between Nadia and Summer occur and Summer leaves in a hurried frenzy, marking the start to the end of their friendship.
In the present day, it's a new school year, and Nadia, now in Grade 12, is the editor-in-chief of her school newspaper, the Middleman and one half of the entire newspaper team, along with her friend Kaz Kaczmarek. After working late on the paper, Nadia and Kaz encounter what they believe is a ghost raccoon and Kaz convinces Nadia to investigate it for the paper, believing that it will help generate interest.
Meanwhile, Nadia finds out that Summer, who left Middle Canada College, has returned to the school. Anja Kaczmarek, Summer's friend and Kaz's twin sibling, tells Nadia to stay away from Summer. However, despite their mutual dislike of each other Nadia and Anja end up as partners for a French project.
After school, Nadia comes out to Kaz as bisexual and admits to a past crush on Summer, which she believes is the cause of her social trouble.
The episode begins with a flashback to Nadia and Summer hanging out at an end-of-year school dance. While dancing, Allen Rhodes, who has a crush on Nadia asks her out to dance.
In the present day, Nadia prepares to go to a back to school party thrown by Kipling. She tries to convince her boyfriend Allen to come with her, but he refuses. At the party, Jayden Finch, a classmate who constantly attempts to get with Nadia, repeatedly hits on her. While there, Nadia tries to talk to Summer, but suddenly experiences a ghost vision again.
Nadia texts Allen, but the two get into an argument, and stop talking for a while. Jayden finally attempts to make a move on Nadia, but Nadia finally explicitly rejects him, which leaves Jayden hurt.
At the end of the party, Nadia tries to talk to Summer one last time, but Anja arrives and gets into a huge argument with Nadia, telling her to stay away from Summer.
The episode begins with a flashback to Nadia, after the incident between her and Summer. While at school she meets Anja, and the two have a friendly chat. Afterwards, Nadia talks to Allen, who tells her that Summer no longer wants to speak to her.
In the present day, Kaz takes Nadia ghost investigating in order to take her mind off of things. They sneak into the abandoned North Wing of the school to investigate ghost activity, and Nadia has another ghost vision, this time of the raccoon and the boy together, and realizes that the boy is the school paper's founder, Osgoode Terauley. While communicating the experiences of her ghost vision to Kaz, the two see a hooded figure enter and sneak out of the North Wing. They later catch the figure on camera with a pot used for conducting bone magic.
Meanwhile, Nadia and Anja's relationship has gotten worse. She attempts to discuss the situation with Allen, but it turns into a big fight. Nadia reveals that she's bisexual, and Allen reveals that he lied to her and Summer to make them stop talking to each other. When Nadia breaks up with Allen the next day he outs her to the whole school. Anja finds out about the truth and makes up with Nadia and the two start getting along. Kaz arrives and drives Nadia home to help her avoid the pressure of school.
The episode begins with a flashback to after Nadia and Summer's incident. Nadia and Allen have officially started dating and prepare to tell Summer. However, they discover that Summer has suddenly left the school without notice.
In the present day, Nadia adjusts to being out of the closet at school and begins to rebuild bridges with Summer. To take her mind off things, she and Kaz continue to investigate the ghost case. Using information from their witch friend Annette Dupont and the footage from last episode, they deduce that the hooded figure must have stolen human bones from a graveyard in order to gain the materials needed to conduct the spell that they have been casting. Nadia and Kaz go to a graveyard and find evidence of a dug-up grave, which causes Nadia to have a panic attack. Which Anja helps mitigate.
Afterwards, Nadia and Anja hang out to work on a French assignment. While working together, the two open up to each other, and kiss while watching an episode of Passiondale, Anja's favorite show.
While working late on the paper again, Nadia, Kaz, and Anja see the hooded figure sneak into the school again and go after them. They discover that it's their teacher, Mr. Sherbourne, trying to speak to a dead family member. Nadia and Kaz manage to stall Sherbourne long enough for Anja to throw a raccoon at his face, and they escape the building to where the police are waiting.
Nadia and Kaz don't get to publish their newspaper story about Sherbourne, but they draw attention from interested students who heard that the school censored their issue. Nadia recruits them for the paper and gets to work on a new to-do list for the year.
Characters
Edit
Minor Characters
Edit
Chapter List
Edit
Known Unknowns is split into four parts, each with their own sub-chapters.
Locations
Edit
Known Unknowns is split into four parts (also known as episodes, or chapters), released on different dates. Similar to Birdland, the story is written in second person, with dialogue between characters occurring in script format, with dialogue options for the conversation on the bottom. Character icons will appear on the left and right depending on who is in the conversation. Known Unknowns also includes an exploration element to the game, allowing the player to explore the actual physical spaces, which links in the description for the player to choose what the interact with or observe.
Known Unknowns has sections where the player will suddenly be taken out of the regular conversation structure when encountering a ghost. There, the screen turns a solid purple (unlike the former pale beige background with maroon sidebars), the font turns into Gill Sans (instead of the typical Georgia font), character icons are gone, and characters in the conversation speak with emojis.
Episodes begin with one of Nadia's childhood memories, relating to her relationship with one of the characters, which is written in the past tense.
The game will save data from each episode, which it will sometimes make callbacks to in dialogue in later chapters. However, playing the previous chapters of the game is not required to play others.
Development of Known Unknowns began shortly after Birdland. Creator Brendan Patrick Hennessy shared developmental screenshots and sneak peek information of the game, where it was known as "The Next Thing." Hennessy mostly shared small tidbits, such as short dialogue, and character names.[1][2]
The first snippit shown was on Hennessy's tumblr on Feb 10, 2016, showing a dialogue between Kaz and Nadia from part 3. Hennessy then confirmed the names of Nadia and Kaz and their status as queer characters. Hennessy teased the possibility of a cameo from Bridget on March 11, 2016. The first character portraits and finalized name of the game was released on July 13, 2016. Hennessy revealed that the first chapter was set to be released in November and shared more screenshots on Hallowe'en.
Most in-dev posts of Known Unknowns before Chapter 1 can be found in Hennessy's The Next Thing tag on his tumblr.
Chapter one of Known Unknowns was released on November 5, 2016, following an announcement by Henessy on his Twitter and Tumblr. Along the month of November Hennessy shared multiple in-dev posts for Chapter two and released the second episode on January 14, 2017.
Hennessy continued to post updates for episode 3 during March and released it on May 15, 2017. Hennessy posted updates for episode 4 from August to November. The fourth episode was released on December 10, 2017, completing the game.
Updates from during development after episode 1s release, as well as fanart pertaining to the series can be found in Hennessy's Known Unknowns tag on his Tumblr blog.
On June 10, 2018 Known Unknowns was released on Brendan Patrick Hennessy's itch.io alongside Birdland.
Reception
Edit
Known Unknowns was featured on Giant Bomb in Bruno Dias' Top 10 List of Games of 2016 after its second episode.[3] It was also reviewed by Emily Short after its completion.[4]
It was in the 2017 XYZZY awards and was nominated in 7 categories, including Best Game, Best Writing, Best Story and Best NPCs.
It has its entry on the Interactive Fiction Database where it has 4.5 stars as of May 22, 2019.[5] It has 5 stars on itch.io as of May 22. 2019[6]
Part one, also known as chapter one, or episode one, is titled "the to-do list." This is a subtle reference to this wiki's own to-do list, which you should check out.
Nadia's school, Middle Canada College, is likely a reference to Upper Canada College, a Torontonian all-boys private school.
Staying too long in the school hallway in the first chapter while the purple smokes drift around will leave the characters disoriented, unable to tell their location in the building.
The story contains many references to actual Toronto landmarks

In chapter one, Nadia walks across the Vale of Avoca ravine, and actual ravine in Toronto, Ontario.
During a text conversation in the first chapter between Nadia and Anja, they mention the Toronto Reference Library on Bloor and Yonge street, which has since became notorious as "the murder library" since the events of Bell Park, Youth Detective. The real library however, has no such reputation for any murder.
While some landmarks still exist, certain name places such as Middle Canada College, and Nadia and Summer's home streets do not correspond to any actual places in Toronto, Ontario.

In chapter one, Rouillé gives the class a French assignment, this is a subtle reference to how teachers often give assignments to their students for class.
In chapter two, Nadia's first interaction with Jayden is completely unavoidable. He will chase you down. You cannot escape him. There is nothing you can do about it.
Time during the party changes based on whether mandatory dialogue interactions have been fulfilled

The party begins at 9pm
It turns 10pm when Kaz talks to Nadia about dip
It turns 11pm after the ghost interaction and during the second Jayden interaction
It turns 12am when Nadia accidentally spills a drink over Anja's shirt after texting Allen
It turns 1am when bumping into Anja after Nadia's final interaction with Jaden

In chapter three, Nadia can choose whether to walk home herself, or drive home with Allen.
Each episode uses save data to determine if certain dialogue interactions had occurred to adjust accordingly, as well as writing the correct events in Nadia's Journal.
In the small gym of the North Wing in Chapter 3, there is a reference to a heritage minute short about basketball
In the third episode, if Nadia and Kaz choose to find what a bone pot is online they find an article that says "bone pots have largely fallen out of use in the modern era and are generally unknown outside of mainstream Canadian denominations." This implies that that witchcraft is practiced more commonly in Canada within the Known Unknowns universe.
Mount Pleasant, St. John's Norway, Pine Hills Cemetery, the three cemeteries called in chapter three, are all real cemeteries in Toronto. However, the people called on the phone are likely not meant to represent any real staff or people.
When talking to the lady from St. John's Norway cemetery she makes a mention to how we will all end up in a coffin one day. This is a subtle reference to the fact that death is inevitable, and we will all die one day, no matter what. You too, will have to face the wrath of entropy and the decay of your own reality and body.
During chapter four, Nadia can decide what her favourite sushi place is during a conversation with Olivia and Tibor. When Anja and Nadia do their French assignment together, and Nadia chooses to order sushi, they will order from her favourite restaurant. If no restaurant is set, the choice defaults to Sushi King.
None of the sushi restaurants mentioned actually exist in Toronto, i think. at least according to google.
Turk Bars are a real thing, and they are only sold in canada. i actually kind of want to try one. i've never seen them before.
Moore Park Collegiate, the public school summer used to attend, isn't a real school. However, Moore Park is an actual neighbourhood in Toronto, and there is a North Toronto Collegiate high school as well.
Christie's Methodist Cemetery, Cummer Burial Grounds, Lakeshore Asylum Cemetery, Richview Memorial Cemetery, York Mills Baptist Church Cemetery, the cemeteries mentioned in chapter four, are all real cemeteries located on the actual addresses listed in game. 
Degrassi and One Tree Hill, two TV dramas mentioned in Chapter four, are real TV shows, Passiondale, however, is not, and you will never be able to watch it
Nadia and Anja always kiss in chapter four, the exact circumstances they do can vary wildly depending on player choice
On Brendan Patrick Hennessy's tumblr, Known Unknowns was originally known as "the next thing" during development.
An in-development screenshot for episode 3 originally showed a Annette complaining about the stereotype that witches listen to Manitoban fiddle music. This dialogue does not end up appearing in chapter 3, which makes me sad because i really wanted to know what was up with that
The tab icon in browsers for Known Unknowns for itch.io is darker than the original tab icon on known.zone
An original concept for Known Unknowns involved Nadia having to go back in time to stop her own death.[7]
References
Edit
Community content is available under
CC-BY-SA
unless otherwise noted.